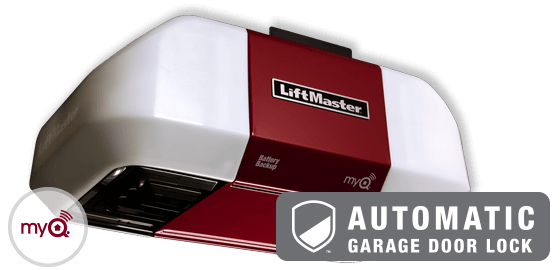 Features
The LiftMaster 8500W model is manufactured by Chamberlain Group. This model optimizes garage ceiling space overhead with is siding installation. If you want an extra storage space up above, have an oversized garage door, or even a cathedral ceiling, the 8500W LiftMaster model, a residential Jackshaft-type opener, is the perfectly engineered solution to fit your specific garage door opener requirements. It mounts easily on the wall (right or left side) beside the garage door, and comes with a remote 200-watt light that can be positioned anywhere in the garage. The powerful 24v DC motor allows for ultra-quiet operation, as well as a smooth start and finish of the door, with adjustable speed. Meets all UL325 requirements.
Fully equipped with must-have features including built in Wi-Fi® for smartphone control, MyQ® Remote LED light which can be installed anywhere in the garage, Integrated Battery Backup and the Automatic Garage Door Locke.
Drive system: Jackshaft type
Remote Lighting System: A 1500 lumens (200 watts) LED light system that you install where necessary and that plugs directly into a standard electrical outlet.
Specially designed for garages and unique applications that don't allow for a traditional trolley-type garage door opener, such as garages with very low, cathedral or obstructed ceiling.
Ultra-quiet 24V DC motor performance.
Integrated battery backup ensures access even when the power's out.
For sectional doors only, up to 14 feet (4.2 m) high or 180 square feet (16.7 m2), 850 lbs (385,5 kg).
Warranty*: Lifetime on motor
* Other parts of the opener are guaranteed for one year (accessories are not covered by this warranty). Please refer to the owner manual for all details.
Warning
Garage doors and garage door openers can be dangerous if not installed and verified by a professional and not used properly. Children must be supervised by an adult when they are inside or in proximity of the garage.
STANDARD SECURITY SYSTEMS
YOUR SECURITY, OUR PRIORITY!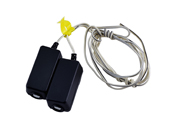 The Protector System®
Project an invisible light beam across the garage door opening and automatically reverse the door if anything interrupts the beam while the door is going down. Sensing technology will stop the door from closing if contact is made with a person or object. Opener light turns on automatically when The Protector System's infrared beam is broken.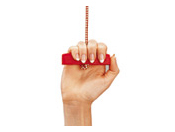 Interior manual release handle
This handle can be used to manually operate the garage door from the interior in the event of a power outage.
Security+ 2.0
Security+ 2.0 rolling code technology eliminates frequency interference and assures a new code is sent every time the remote control is used.
Patented PosiLock® system ensures the door remains securely locked when the garage door is closed.

Cable Tension Monitor
Specifically designed to maintain accurate tension and eliminate "cable throw", which occurs when the cable slips off the drum.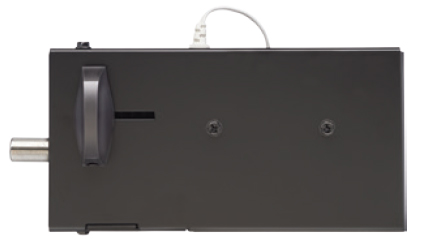 Power Lock
Once the garage door goes down, it's securely locked with the power lock, which is similar to a deadbolt and ensures the door cannot be forced open
Complete service for garage door
Satisfaction Guaranteed