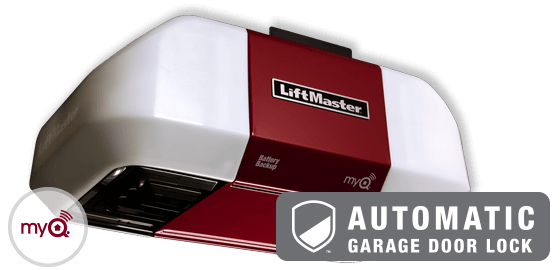 Features
The model LiftMaster 8550W door operator is manufactured by Chamberlain Group. Its most important feature: it will operate the garage door for 20 cycles within a 24-hour period, and recharges automatically when the power comes back on. An audible signal tells you when the power is out and the EverCharge® Standby Power System is in use. Meets all UL325 requirements.
This opener includes the MyQ® Technology, now equipped with Wi-Fi, that allows to monitor, open and close your garage door from your smartphone, your tablet or your computer, and that from anywhere in the world.
Voltage / Phase: 120V, 60 Hz
Lighting System: : 2 lights (max.: 100 watts / light) with adjustable light time delay. Compatible with compact fluorescent lightbulbs (max.: 26 watts / light).
Additional headroom required: : 2" (51 mm)
MyQ® Technology allows you to monitor and operate your garage door opener safely using your smartphone.
Warranty*: Lifetime on motor
* Other parts of the opener are guaranteed for one year (accessories are not covered by this warranty). Please refer to the owner manual for all details.
Warning
Garage doors and garage door openers can be dangerous if not installed and verified by a professional and not used properly. Children must be supervised by an adult when they are inside or in proximity of the garage.
STANDARD SECURITY SYSTEMS
YOUR SECURITY, OUR PRIORITY!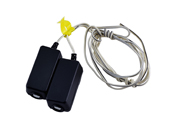 The Protector System®
Project an invisible light beam across the garage door opening and automatically reverse the door if anything interrupts the beam while the door is going down. Sensing technology will stop the door from closing if contact is made with a person or object. Opener light turns on automatically when The Protector System's infrared beam is broken.
Alert-2-Close Warning System provides audible and visual warnings that the garage door is about to close when using the Timer-to-Close or remote closing features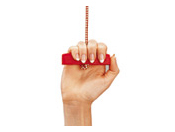 Interior manual release handle
This handle can be used to manually operate the garage door from the interior in the event of a power outage.
Security+ 2.0
Security+ 2.0 rolling code technology assures a new code is sent every time the remote control is used.
EverCharge Standby Power System (485LM)
Door opens when the power is out. After the power goes out, the standby power system will operate the garage door opener for 40 cycles within a 24-hour period.
Complete service for garage door
Satisfaction Guaranteed